At B&W Garage Doors Specialists we feature beautiful and dependable Wayne Dalton Garage Doors. Wayne Dalton has been around since 1954 and in that time they've grown into one of the largest garage door manufacturers in North America. Their commitment to quality and innovation is why we've chosen to feature their doors for our customers in the Calgary area. Each and every day we strive to achieve our goal of 100% total customer satisfaction and no product we feature does a better job of helping us toward that goal than beautiful, dependable garage doors by Wayne Dalton.
The Advantages of Wayne Dalton Garage Doors
The Wayne Dalton Company today offers one of the most diverse product portfolios in the garage door industry. Their doors are made of everything from Carriage House Steel to Designer Fiberglass and a dozen other materials. As such they're the discerning home or business owner's choice whenever outstanding design and curb appeal is the goal. They also offer: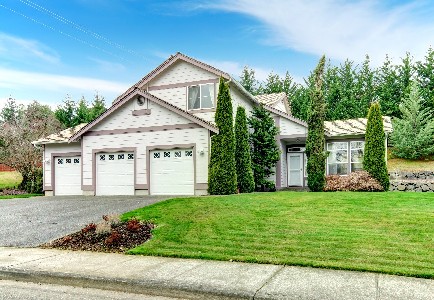 An incredible array of window options – From clear to frosted to etched as well as one way glass Wayne Dalton has the garage door window panels to meet your needs. Those windows are available in traditional rectangular shapes, crescent, sunburst shapes and more so you're sure to find one that will meet your home or business's' exterior design.
Many hard panel designs – Wayne Dalton garage doors are composed of a wide variety of leading edge materials including fiberglass, steel and composite as well as more traditional materials like wood and even aluminum. Faux wood grain finishes of every imaginable type are available to match your home's exterior or you can paint or stain your panels to create an exact match.
Speaking of colours – The Wayne Dalton True Choice colour system means there are more than 6,000 different colours available for your garage doors. This state of the art colour matching system was devised by Wayne Dalton to ensure their garage doors are always compatible with any home or business colour scheme. This custom colour system allows you to determine the colour of the door during manufacturing in case you don't want the hassle of having to paint the door after it's installed.
Residential and commercial – Wayne Dalton manufactures garage doors for both residential and commercial customers. Their residential offerings adorn some of the most attractive homes in greater Calgary while their commercial garage doors can be seen on businesses large and small. Both exhibit outstanding thermal efficiency and are able to withstand the heaviest wind loads; which is important when the Alberta Clipper blows into town.
 High speed doors – If there is one common complaint that has dogged automatic garage doors for years it's that they don't exactly burn up the track as they open and close. Wayne Dalton garage doors address this issue with their new line of high speed doors. Each door features patent pending designs with industry-best safety features and can be used in both residential and commercial settings, indoors or outdoors.
B&W Garage Doors Specialists are proud to offer the full line of Wayne Dalton garage doors for our customers throughout greater Calgary. We believe that once you've had one of these beautifully designed and built, extremely durable and dependable garage doors installed on your home or business you'll never want to settle for anything less in the future. The best garage door on the market is waiting to grace your home. Let B&W Garage Doors Specialists install it for you.
Call us on (403) 275-6048 to find out more. Or drop us an email at contact@bnwgaragedoors.ca.
To know about Wayne Dalton Garage Doors in  Calgary Contact us Today