We repair, replace & align garage door sensors
There is a solution when you can't get your garage door to close because of a faulty garage door sensor.
B&W Garage Doors Calgary can help with the repairs and servicing of the safety sensors. We also do sensor replacement, but our repairman will try to fix your existing one first. 
TIP: If you are unable to get the door closed and the safety sensors are the issue, the garage door can be closed by pressing and holding the Door Control push bar until down travel is completed.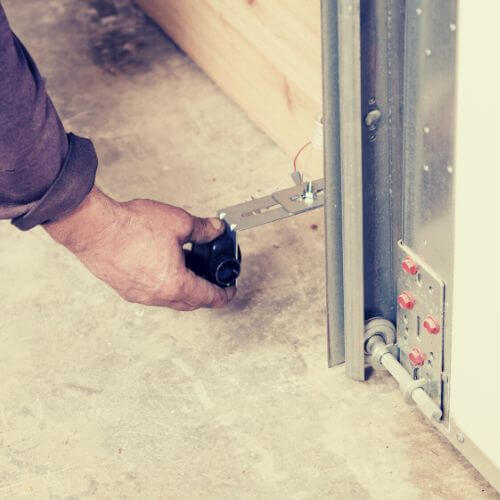 What do Garage Door Sensors Do?
The garage door sensor or photo eyes help detect objects blocking the door's path.
These photo eyes detect objects blocking the door, preventing it from closing.
The infrared beam connects the sensors to remain visible.
When the beam breaks, the garage door will reverse instead of closing.
So what can cause the garage door sensors to stop working?
Common Reasons Why Sensors Stop Functioning:
There is an object obstructing the path of the sensor.
A power supply issue can prevent it from working correctly.
The LED lights might not be illuminating on both the photo eyes.
Or the sensor might need cleaning from pollution, dirt, spider webs, or car exhaust fumes.

 

Sometimes the garage door sensor is exposed to moisture or poorly aligned.

 

Lastly, the photo eyes might have gone through wear and tear from age.

 
These are common reasons for photo eyes not to work.
So what should you do next? First, check if objects are blocking the wiring around your sensor to see if it is broken or loose. 
If there is a loose connection or no power, it helps to open the box to check the electrical work. Switch off the power at the breaker before working on it.
If you are not skilled in electrical work, contact a professional instead. 
Alternatively, you can use a dry clean rag to clean the lenses and check the alignment to adjust the sensors accordingly to face each other.
With moisture present, we recommend leaving it to dry and try opening the door again.
If all else fails, contact B&W Garage Doors Calgary to help. 
We Do All Garage Door Repairs
No matter the brand of garage door opener sensors you have, we service them all.
We stand by 24/7 to help you park your car in your garage.
Contact us today to keep your most valuable asset protected inside your garage, your trusty old car.
Do not let a broken garage door safety sensor stand in your way.
We can help.
Just give us a call, and our trusty technicians will be on their way to help. 
YES, I want a free quote!