With us, you only get the best of your Garage Door needs.
B&W takes pride in handling any issue that may rise from owing a garage door (overhead door) in Calgary and Edmonton.
If its a garage door repair or garage door fix that is needed, we can assist with same-day service, sending our experienced garage door technicians to resolve any problem.
They can stop working, a spring could break, the garage door opener could stop working, and many other potential issues could arise.
What our techs can also do is maintain your door to ensure your safety. We provide garage door opener repair, new installation and maintenance services at very affordable prices.
That's why the opener is under a great deal of stress. In this sense, a garage door is a great feature to have in your home – that is, if it is working properly.
A garage door is a great feature to have.
A garage door in Calgary is a common feature that is highly desirable for homeowners and buyers.
It's rare for a home to be built without a garage door these days.
If you own a garage door in Calgary, you know how much of a convenience it can be.
If you need to replace a certain section of your garage door because one of the panels have been bent, we can do that as well.
We have all the world-class skills, tools, and equipment to get your garage door installed as we've done for hundreds, if not thousands of customers.
From there, disengage the garage door to manual mode by pulling the red handle.
Your garage door is something you'll probably use every day.
People use it as an alternative way to get into their home if they happen to forget their key, and they use it to go in and out without having to use the front door.
Many people use it for much more than parking their vehicle.
It provides rear access parking. MyQ remote LED light provides bright, maintenance-free illumination.
B&W Garage Doors Repair in Calgary and Edmonton – competitive and fair prices.
Whether it's a quick Garage Door fix or complex issue, our Garage Door technician will arrive on time, ready to work, and will ensure your garage door is repaired to its original state.
We put our experience and skills to work whether you need our assistance to select a new door or fix a problem.
We provide you with the personalized service you need to repair your garage door issues.
When your garage door does have issues you need to have it addressed immediately or it comes pose a security and injury threat to your home. We know you will choose us for your next garage door project, we have our work to prove it.
We can install any new door you choose along with its opener.
A damaged garage door can be an injury waiting to happen.
When you choose B&W Garage Doors of Calgary you're partnering with a small, local, family run company that specializes in working with any garage and overhead door systems.
At the first sign that your cables may be wearing, call Sprint Garage Doors. These cables are quite common and available in stainless steel varieties.
No matter, you want a wood or a steel door, we are proficient in installing them all.
We will only provide you with glass doors made of reputed brands and in any style, glass, and frame you want.
By checking all parts along with the movement and balance of the glass door, we make sure of its good and safe performance.
Unlike many thermoplastic materials, Triple wall plycarbonate sheets are CC-1 flame rated and passes E84 Steiner tunnel – a significant performance advantage compared to other plastic materials.
Fence or wall height in the front yard should be no more than 1 m to 1.5m in height. Among the more important features are that all development (neighborhoods and districts) be compact, have clearly defined edges and centres, encourage pedestrian activity rather than automobile use, streets are interconnected, and civic buildings should be given prominent locations.
27 For the purpose of this design thesis a combination of the first three principles(social, economic, and ecological) presented and those mentioned above will be used as a guide.
No two garage doors are the same.
Both rational and intuitive thought should not be judged as two opposite forces butas a inter-related course of action.
We provide users with new garage door, installation, or replacement products such as electric garage door openers and garage door opener replacement parts and remote controls.
Be it a new door, opener, or services, we pay attention to all products and our services.
We pay attention to their specifications and come quickly to offer solutions or service the existing door.
Our company can offer solutions for any garage.
We can help you with this! Since not all glass doors are the same, trust us to help you out.
We provide, install, and repair glass garage doors in Calgary. For new garage doors or garage door repair in Calgary, it's got to be Door Surgeon.
B&W Garage Doors serves Calgary and Edmonton with their surrounding areas, such as:
West Calgary, East Calgary, South Calgary, North Calgary, Chestermere & Airdrie. We have replaced many Garage Doors to new Garage Doors in variety of neighborhoods, such as: Woodbine, Fairview, woodlands, Evergreen, Bridlewood, Oakbay, Bank view, Aspen, Rocky view, Douglasdale, Sundance, Shawnessy, Somerset and many more.
Here is one of our Dark Brown new overhead doors that was installed lately by B&W New Garage Door in Calgary team:
Do you need windows in your overhead garage door?
Do I need Windows in My Garage Door?
We will be able to give you a rough estimate over the phone, in order for us to provide you with accurate pricing we will need to send a technician to see exactly what needs to be done.
At Calgary Garage Door Repair, we've been installing new garage doors for homes and businesses for over a decade.
Equal Door Industries (the parent company of General Door Services) has been manufacturing, distributing and installing the highest-quality garage doors in the Calgary area for more than 40 years.
Our goal is to make sure you are 110% satisfied with our services.
Whether you need simple maintenance or overhead door repairs our trucks will arrive fully equipped with the parts and tools to fix ANY make or model of commercial overhead door system.
The combination of rational and intuitive thought, formal rules and learning objectives make the process an interdisciplinary one as opposed to a multi-disciplinary.
466 The matrix below shows how the process of the design development will occur.
To analyze and design space within the public/semi-private and private realms to show that a system of public over private values exist.
Modern garage doors are available in a wide array of material and design choices and can be factory-finished in a variety of colours.
B&W Garage Doors Specialists is a locally owned and operated company providing best-in-class installation and replacement services for all overhead door styles and shapes. We value your hard-earned money and strive to provide efficient installation services, thereby allowing your house to look complete and providing a secured car parking.
At B&W Garage Doors Services, we pay strict attention to detail and have a great team that genuinely strives to offer our new and existing clientele friendly and knowledgeable customer service.
Although you might not have ever considered it, a good garage door helps to insulate your home.
Sometimes your garage door just won't open, and it's always a good idea to wait for a qualified and knowledgeable tech before doing anything.
Catching problems early can help keep your door in good working condition and help avoid replacement.
The new garage door looks amazing and has been working perfectly.
Calgary homeowners have several different garage door materials to choose from.
When choosing garage doors, Calgary homeowners should look for strong and durable door panels and heavy-duty operating hardware.
Calgary Garage Door repair has been repairing, maintaining, and installing exceptional quality garage doors, springs, cables, and openers for local commercial and residential customers for many years.
With over 10 years of experience, we can assist you with installing a new garage door for your home.
Their special joint seals also reduce water and air infiltration, with a baked-on finish that keeps your door looking brand-new for years.
The Garage Door Company has been handling the greater Calgary region's garage door needs for the past 25 years.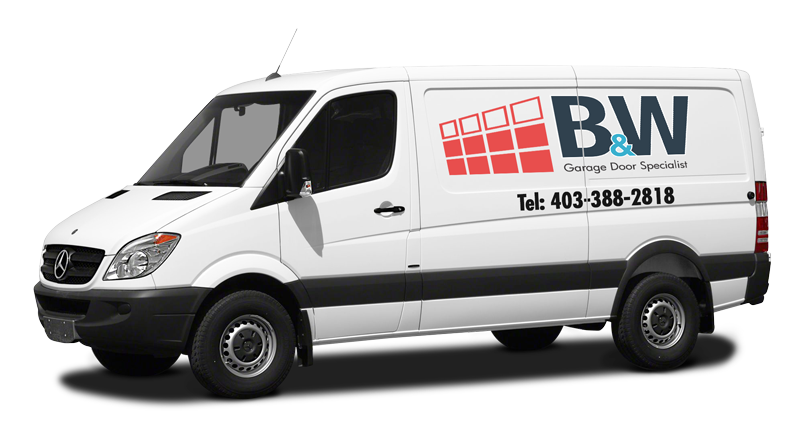 bnw Garage Doors of Calgary is a local, family owned company that's large enough to serve all of your commercial door needs 24/7.
yet small enough to treat you as if you were our only customer.
As part of our commitment to home and business owners across Calgary, we've invested in the best, most efficient customer service.
If the doors or their opening systems on your business or facility aren't operating correctly then your business could be at a standstill and money is being lost.
Do you think it's time to get your business a new garage door?
We've been operating in Calgary for over a decade, and we've tried many different garage door brands during this time.
A better idea would be to call us, and we'll have an expert at your doorstep in no time!
The area doesn't have to be too big to start out with, but it should be able to accommodate at least two tower PCs and monitors.
Garage Door Repairman premier garage door service and installation company serving the Calgary and surrounding area.
Installation was done the next morning and went very smoothly.
We have a proven track record for on-time delivery, expert installation and dependable after-sales service. Garage space for a car and may or may not have additional dwelling unit over the garage.