Are you looking forward to refreshing the look of your home, especially your trusty garage? If you answered YES, read on for the top 5 trends in garage doors to help you determine the look off your next project. According to the new 2018 Cost vs. Value Report from Remodeling magazine, an upscale garage door replacement is the best value out of the 21 mid-range and upscale remodeling projects evaluated. You can get the best of both worlds: A new and improved garage door and added value to your home security profile.
Top 5 Garage doors trends in 2019
1. Garage Doors Can Also Be Bold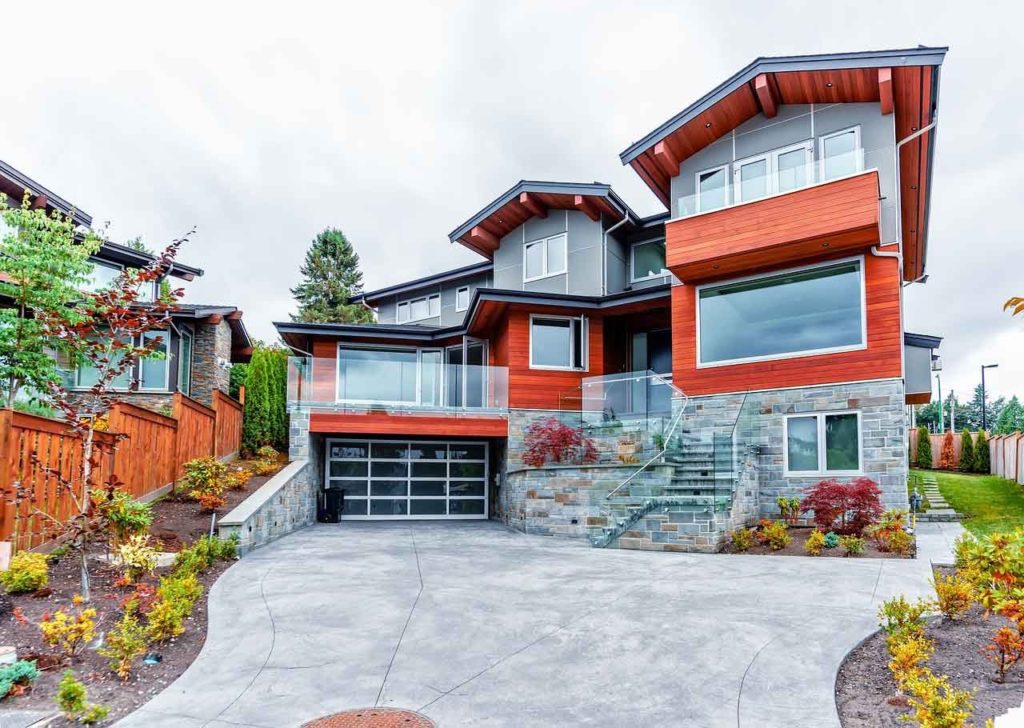 Though clean and simple colours are among the most popular options, using bold colours is a quick and easy way to make an impact on your home's curb appeal. Your garage takes up over 60% of your home's front. An eye-catching color to complement your home is a nice touch to make a statement in your neighborhood.
The colour to look for in 2019? Black. While some may think black is a strange choice for a garage door, this sleek color is one of the leading design trends in the industry right now, You can also choose a darker color to make your garage door stand out. Moreover, choosing bold, dark colours offers you the freedom to decide on the colour for the other parts of your home.
2. Windows Go Hand In Hand With Your Garage Doors
Natural light brings warmth and brightness into your kitchen, your bathroom, your bedroom, and it can definitely do the same to your garage. Full glass doors and panel windows are great options to add style, light and warm up this space. Letting light into your garage will also make it appear more spacious and less cluttered. And of course, you can choose from a variety of tints/frosting to maintain the privacy while adding character to your curb appeal.
3. Efficient Garage Doors Are On The Rise
While energy-efficiency and insulated garage doors were big in 2018, they will stay on top in 2019 as well. A well insulated garage door with a high R-value will help keep the heat in during winter and out during the summer. Not only do insulated doors regulate temperature and lower energy bills, but they also help to keep your garage quiet as the sides of the door sections adhere to the insulation found inside rather than the hollow sections of a non-insulated door.
4. Smart Technology For Garage Gives You Peace Of Mind
The Smart Home craze has already secured a place in the heart of most homeowners, so it comes as no surprise that we will be seeing many garage doors operating with this technology in 2019. Doors will be equipped with Wi-Fi connected openers and homeowners will be able to operate their garage door remotely from your phone. Gone are the days of sitting at work thinking, "Did I remember to close the garage door when I left this morning?" This technology will also allow you to grant temporary access to people coming in and out of your home. Convenient, right?
If you're still looking for a good option, check out the recommendations here
5. Timeless Design Beautify Curb Appeal And Ensures Functionality
Classic styles will remain as a leading trend in 2019. There are low maintenance alternatives to those of you who love the look of wood doors but are worried about the upkeep. Carriage house doors can add style and vintage flair to increase your home appeal without compensating in terms of quality.
If your garage is in need of an update in 2019, or you have an idea of how to upgrade your garage door, but still don't know where to start, contact us at (403) 275-6048, our team of professional and dedicated experts are ready to help. We would love to help increase your curb appeal and ensure your peace of mind with an opener you can monitor remotely.