B&W Garage Doors Calgary offers fast garage door repair, no matter your problem.
We replace malfunctioning damaged parts on existing garage doors.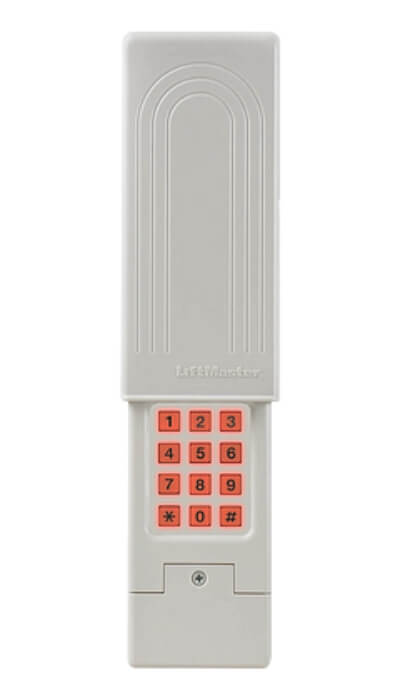 four-digit access code allows for easy entries
Completely wireless 
Weatherproof flip-up protective
Backlit keypad
Garage Door Keypad Repair & Replacement
We provide you with services for keypad repairs and replacements. The keypad with your garage door remote is an important part.
With the keypad, you get added safety to protect your valuables.
Unfortunately, when it breaks, it becomes a nuisance.  
The keypad on the garage doors is equipped with a receiver logic board to communicate with the keyless entry.
When the keypad does not work, you will not be able to use your remote. Hence, you need to fix both; some common problems can cause it. 
A depleted battery, when low, will not allow you to use the keypad or the remote. Therefore, we recommend replacing both batteries.

 

You may have programming issues, and the keypad needs a reset to change the keyless entry pin. Also, remember to sync your remote with your keyless entry.
Sometimes the keypad will be functional but not allow you in.
It can result in the buttons. The repair is trickier, and you need to call a technician like us to help.

 

The newly installed keyless opener might have surface interference on the number pad. It may work when you remove the panel and test your pin.
Use rubber grommets or a small piece of wood between the surface mounting and the pad to prevent this from happening again.
If still not working, it needs a professional's attention, as it might be a wiring problem.

 
We are a family-owned company, offering prompt, personal service to each and every customer. We are proud to serve our community.
Why Choose B&W Garage Door Calgary?
When contacting us, we are right on time that it is convenient for you to do the repairs right in front of your eyes.
Our technicians will be there right from the start to the end, doing things right the first time. The best part is with a garage door keypad repair & replacement, you also get the right pricing.
Contact us now to discuss your keypad lock installation to repair. 
Fully licensed, bonded and insured